Our kids are now very interested in learning to bike and biking should be encouraged for them in order to improve their health and develop their other skills. In the market today, there are a wide variety of bicycles for kids and the quality also varies, which often bewilders parents. Therefore, choosing a suitable bike for our children is not simple. Here are some really simple tips for you.
The age
Not all kids are able to control the bike. Here, first and foremost we should know at what age the children should be allowed to bike. According to researches, kids from 2 years old and a half had better make friends with the bicycle.
Those who are smaller than 2 years old are too small to be able to learn about controlling and pedaling the bike. In addition, these kids will feel bored very quickly with biking as they cannot control it. Therefore, choose the bike for your children when they are above 2.5 years old.
Of course, for each age, there have different types of bicycles for them. For small babies, there have three – wheel bikes while for older children, there have balance bikes and normal bikes.
Let your children choose the bike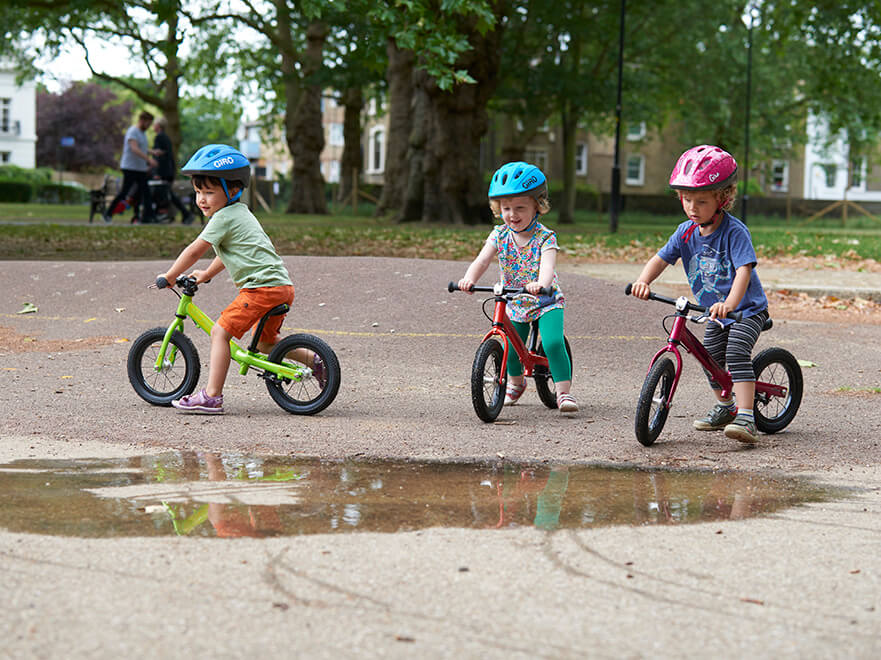 It is clear that our children will use the bike, not us. Therefore, the real users ought to go with you to choose a bike for them. As there are various types of bikes with different designs and colors, sometimes we feel confused but our kids will be able to choose their favorite style very quickly.
In addition to having a careful test and check for the bike, we also need to care about our kids' liking. Therefore, don't forget to bring your kids when you come to the bike stores.
The most suitable types
As said above, there often have three types of kid bicycles. Each of them has both pros and cons. However, among these three types, our children should learn to bike a balance bike which has two wheels and have no pedal.
The reason is that children at this age cannot combine too many movements at the same time. Our children can only keep balance well when they do something that does not exceed their ability. Thus, choosing one type for them is quite irritating.
You can also choose a three – wheel bike which helps our kids control easily and keep balance. However, they will feel tired after biking for only some rounds.
The durability
When choosing a bicycle for our children, we ought to take notice of the frame durability, the safety of the pedals and wheels. To hold the hand grips comfortably, we will have to measure the distance from the saddle to the hand grips so that our children will have the most comfort. Of course, it is possible to adjust this distance through the seat post.
About the frame, its durability should be long lasting in order that our babies can use the bike at length. As usual, when our children practicing biking, they can fall and the bike can be broken quickly if it is not durable.
In addition, a firm frame will help keep the safety for our children more effectively. We also need to care for the seat or the saddle. Our babies should have the most comfort to get more motivation for continuous practice otherwise they will be bored with this.
Choose the brand
As this is a bike for our darlings, we need to choose the brand as carefully as possible. There will have more things confusing for you but you had better test and check the bike in details before buying.
After buying a new bike for our kids, it is necessary to give them proper guides so that they can get used to the bike more quickly. Also, they will have more interest in biking.
In conclusion, every parent had better allow their children to make friend with the bike early in order to prepare necessary skills for them before becoming more mature. I think that with the tips above, we can choose to buy a suitable bike for our darlings.